The Paleobond Getting Started Kit
---
This kit was designed to introduce you to the state-of the-art chemistry of PALEOBOND.
A full range of different viscosity glues are included to cover all sizes of cracks and fractures. Includes accelerator, debonder solvent and applicators. Use the same high tech products that scientists use in the field and lab. A tremendous value at only $35 per kit !!!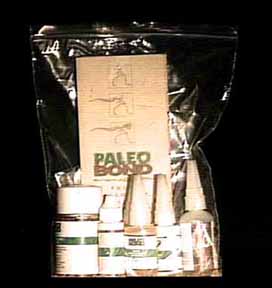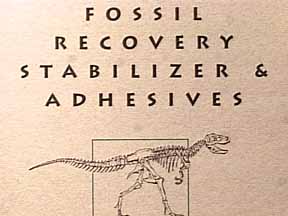 WMUC0001 - PaleoBond Starter Kit $35
---
Contents of Starter Kit:
One 2 ounce bottle PB-002 penetrant and stabilizer(2cps)
One 1 ounce bottle PB-40 adhesive(40 cps)
One 1 ounce bottle PB-100 adhesive(100 cps)
One 1 ounce bottle PB-750 adhesive(750 cps)
One 1 ounce bottle PB-1500 adhesive(1500 cps)
One .70 ounce bottle PB-4540 Jurassic Gel(80,000 cps)
One 6 ounce aerosol Activator PB-303 non ozone depleting propellant
One 1 ounce bottle PB-400 Debonder solvent.
Instructions and tips for use are included with kit.
---
---
Copyright 1999 by Pan Terra Inc., PO Box 556, Hill City, SD, USA 57745.
All rights reserved.......Tel or fax 605-574-4760
---