Cretaceous Fish Fossils of Kansas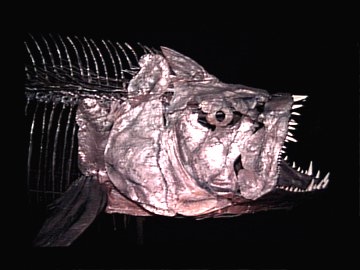 ---
There's only one place to get a 3-D cast of the Cretaceous fish Xiphactinus.
Triebold Paleontology digs the fish bones from the Niobrara Chalk of Kansas and prepares them into some of the worlds most impressive fish fossils.
---
The bones are first removed from the ground in plaster jackets. In the lab, the bones are removed from matrix one by one. It involves very meticulous work like a giant puzzle.
---
The individual bones are cleaned and prepared and the assembly of the skeleton begins. There are several dozen bones in the skull alone.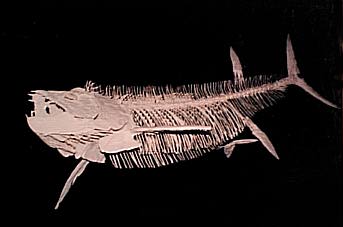 ---
When complete, the mounted specimen almost comes back to life.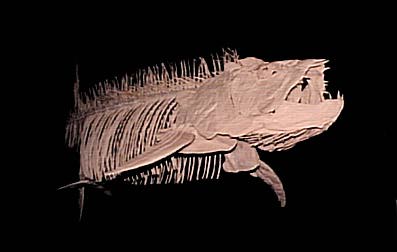 ---
Scientific Name: Xiphactinus
Phylum: Chordata
Class: Osteichthyes
Niobrara Chalk
Casts are available from the Worldwide Museum Giftshop. Museum and collector inquiries invited!
---
---
Copyright 1999 by Pan Terra Inc., PO Box 556, Hill City, SD, USA 57745.
All rights reserved.......Tel or fax 605-574-4760
---